Sometimes it feels as if dry cleaners and clothing manufacturers are in cahoots. You've just bought a gorgeous new outfit, maybe even on sale! However, once you're home and take a look at the tag, it says "Dry Clean Only". What? That's so much work! Does it really need to be dry cleaned?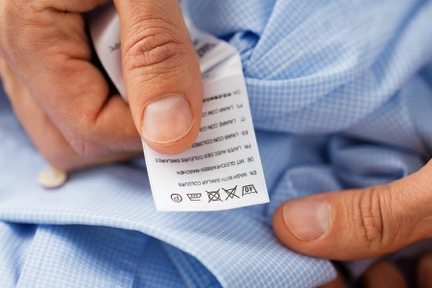 Instead of relying on the washing instructions take a look at the fabric
Instead of relying solely on the washing instructions, take a look at the fabric the item is made from. The type of fabric matters a lot more than what the manufacturer may suggest. In some cases, the quality of your washing machine and your hand washing skills make a difference, too.
Fabrics that don't need dry cleaning
More often than not, cotton does not need to be dry cleaned. However, you'll want to machine wash cold or warm with similar colors. Most cotton clothing has been preshrunk, too, so drying in a machine is safe.
Synthetic fabrics. These include polyester, nylon, spandex, acrylic and acetate. These won't shrink, so it's safe to wash in warm water. However, go gentle or low on drying because they can permanently wrinkle in a hot dryer. They also produce a lot of static in the dryer so use a dryer sheet or hang dry.
Fabrics that should be dry cleaned
With linen, you have a few options. You can hand wash in cold and air dry but it often requires ironing. Linen is made from flax fibers and is known for being cool and fresh in hot weather. If washed incorrectly, it can lose its crispness and clean finishing. Dry cleaning is often best for linen clothing.
Rayon is a tricky fabric because it's considered semisynthetic. It is made from purified cellulose fiber. Dyes may bleed when washed and rayon can shrink or lose its shape when washed in warm water. Hand washing in cold water with mild detergent is an option, but it is generally safer to dry clean this fabric.
Silk is a natural material and thus is durable. Known to be a more luxurious fabric, it takes proper care to keep it soft and, yes, silky. The dyes in silk tend to bleed and that is why it should be dry cleaned or hand washed in cold water. You should also use a mild-detergent. Dry cleaning silk tends to be easier at this point, especially if it's an article of clothing you really care about.
Wool is a sturdy fabric and should be dry cleaned whenever possible. When it's not possible, hand wash in cold because it will shrink in any warm or hot water. It's a durable fabric and will last a long time when cared for properly.
When it depends
As mentioned above, many nature fabrics can be hand washed and then air dried. However, this takes time and talent and you still run the risk of harming your clothes. If you're particularly attached to certain articles or use them for work or dressy occasions, go ahead and dry clean. In some cases, items may be for household only like linen napkins, bed sheets or an apron. You may still prefer to use a dry cleaner but you can likely get away with hand washing them yourself.
If you have a really old washing machine, or rely on a laundromat to wash your clothes, opt to dry clean more often. You wouldn't want a nice shirt or dress ruined because the machine is faulty.
Dry cleaning doesn't have to be a lot of work
Lastly, dry cleaning does not have to be a lot of work. Professional cleaning will certainly save you from having to replace quality items in your wardrobe. Plan a certain time of the week or month that you can send off all necessary items to be cleaned. This will save you time and money when you're not rushing off last minute to get a shirt cleaned for the next day. Don't have time to make it to the cleaners yourself? No problem. DriveCleaning.com offers free dry cleaning pick-up and delivery right to your home!